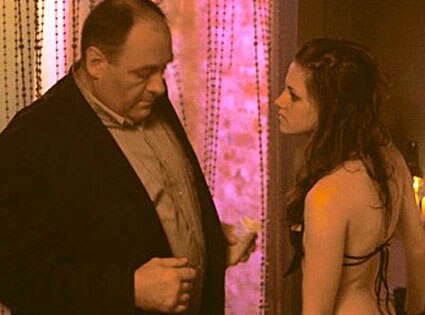 In the much talked about indie flick, Kristen plays a 16-year-old stripper who is taken in by a married man, played by James Gandolfini...
"I did some pole dancing," Stewart said. "I got bruises all over my legs. I tore myself up doing it. It sucked."
But strangely enough, she kinda enjoyed it.....
"The more I saw it, the more I wanted it," Stewart said. "It was like a weird self-hating kind of thing."
Director Jake Scott said it was pretty much a closed set when Stewart had to do her dancing scenes.
"She was terrified," Scott said. "The strip club we shot in was really a club, and it really was that dirty and really that tough. But she killed it."
Scott also got Stewart in contact with a professional stripper.
"She's like one of the best in the business," he said. "So she was really reliable and didn't do drugs or anything like that, but she was able to introduce Kristen to girls that were. She was able to put her in that world."
But if you're expecting Showgirls moves from Stewart, forget it!
"This is not about a stripper," Scott said. "It's about a damaged child."
Stewart said, "The cool thing about my character is she is not sultry and she is not sexy......Umm, Jake had a lot to do with my preparation and understanding of the type of person I was playing, and his serious regard of sensitivity towards those people. I play a girl who has sort of been stripped of any choice and really stripped of any normal upbringing. Like she couldn't establish who she was because of things that have happened to her and she became a 'working girl,' if you want to call it that. So in preparing for the role I talked to a lot of people, actually like three people in New Orleans, that were strippers that were working in this bar that we ended up using in the movie...I don't really prepare for anything, it's just about like, keeping it in your mind the whole time. If it affects you...it's just about understanding it more, it's not about having to like physically—oh, but I did have to do pole dancing lessons! But you don't really see that in the movies."
Oh, so she's got some sexy skills now! And she's a great actor...but she's really shy...especially when shooting the more provocative scenes.
"I was freaking out!" Stewart said, " The thing is my character is so, like, she just doesn't care. Basically nothing belongs to her. She'll give it to you like it doesn't bother her. and thats not me! haha...So I had to drop that shyness. She literally walks around with an open sore. Literally! She's just constantly like, 'Ugh, I'm fine, whatever.'"